BOOKS

When a couple purchases the abandoned Candlelight Theater, its previous owner warns that the ghost of a dead actress still haunts the theater. As the ghost begins to intimidate her new owners, her tragic fate is uncovered.

The Candlelight Ghost by Jameson Currier
ISBN-13: 978-1-937627-85-0
Published by Chelsea Station Editions, 80 pages
Paperback. Price: $12.00
8" x 5.25"

Pub Date: March 1, 2023
Trying to fulfill a promise, a young man finds himself on an unexpected journey when Paul's cat escapes and a surreal adventure through memories begins.

From the author ofThe Haunted Heart and The Wolf at the Door, this special edition of Paul's Cat by Jameson Currier features illustrations drawn by the author.

Paul's Cat by Jameson Currier
ISBN-13: 978-1-937627-81-2
Published by Chelsea Station Editions, 66 pages
Paperback. Price: $12.00
8" x 5.25"

Pub Date: June 1, 2022
Le Troisième Bouddha
Traduit de l'anglais par Étienne Gomez
Perspective Cavalière, 2021
The French translation by Étienne Gomez of Jameson Currier's novel,
The Third Buddha
, about the aftershocks of the 9/11 terrorist attacks in Manhattan and Afghanistan.
The French language edition can be purchased
here
.
In 2022,
Le Troisième Bouddha
was awarded the Prix du Roman Gay.
Why Didn't Someone Warn You About Prince Charming?
stories
Chelsea Station Editions, 2019

Blending heroic male icons, literary archetypes, gay relationships, and an observant, sharp humor, Jameson Currier's
Why Didn't Someone Warn You About Prince Charming?
collects twelve new tales of bad romances, backstage affairs, bittersweet recipes, and broken hearts.
Until My Heart Stops
intimate writings
Chelsea Station Editions, 2015
Lambda Literary finalist, Gay Memoir

Until My Heart Stops assembles more than fifty works of narrative nonfiction written by the author over a thirty-year period, including many published during the height of the AIDS epidemic. The result is a searing personal and poignant memoir of an artist finding his voice during difficult times. Once again Currier doesn't shy away from revealing personal moments and emotions, this time his own, including his love and retreat from the theater, his grappling with boyfriends and long-term relationships, and the details into his own medical diagnosis of HCM—hypertrophic cardiomyopathy, a condition of excessive thickening of the heart muscle for which there is no apparent cause or cure.
Based on a True Story
a novel
Chelsea Station Editions, 2015

Two gay couples meet at an idyllic mountain cabin to celebrate Thanksgiving. As the four men reminisce of their college years, coming out, and recall their past friends and former lovers, a shocking and fatal tale of obsession unfolds.


A Gathering Storm
a novel
Chelsea Station Editions, 2014
Lambda Literary finalist, Gay Mystery

Inspired by true events, A Gathering Storm begins in a small university town in the South when a gay college student is beaten. In the ensuing days as the young man struggles to survive in a hospital, the residents of the town and the university find themselves at the center of a growing media frenzy as the crime reverberates through the local and national consciousness. Using details and elements from actual hate crimes committed against gay men, Currier weaves personal and spiritual layers into a timely and emotional story.

The Forever Marathon
a novel
Chelsea Station Editions, 2013


A wickedly delightful war of wits and whines between longtime companions during a two-day fight.

From their meeting as struggling graduate students in Manhattan to becoming the owners of expensive foreign cars and a country house in Pennsylvania, Jesse and Adam have spent twenty-four cantankerous years as significant others—half of their lives. Now in their late forties, a small domestic fight swells between the gay couple into a major battle, ensnaring a talkative, opportunistic young man as collateral damage.




.

What Comes Around
a novel of linked stories
Chelsea Station Editions, 2012

A quirky, touching, and unique novel of a single gay man's quest to find a meaningful relationship. Written over a period of twenty-five years, these fifteen linked short stories—many of which have appeared in literary magazines and anthologies—exploit the narrator's wit and heightened self-examination by utilizing a second person point of view technique. Covering four decades of misadventures of looking for the right man, Currier's unnamed narrator bumps through blind dates, break-ups, unexpected seductions, tragedies, and imperfect affairs. Currier was awarded a New York Foundation for the Arts fellowship for the stories included in What Comes Around.

The Third Buddha
a novel of 9/11 and Afghanistan
Chelsea Station Editions, 2011

Like Currier's previous work, the author once again targets the big themes of modern gay life in his new novel: identity, faith, homophobia, romance, and the complexity of relationships, but at the heart of The Third Buddha are the little acts of random kindness that continue to astonish in times of crisis and war. Jameson Currier expands his richly detailed storytelling to an international level in this new novel, weaving together the intertwining stories of the search for a missing journalist in the Bamiyan region of Afghanistan with a young man's search for his older brother in Manhattan in the aftermath of 9-11. The result is a sweeping, multi-cultural novel of what it means to be a gay citizen of the world.
The Wolf at the Door
a novel set in a haunted gay-owned guesthouse in New Orleans
Chelsea Station Editions, 2010

Ghosts? Angels? Hallucinations? When a death occurs at Le Petite Paradis, a guesthouse in the French Quarter of New Orleans, the spirit world becomes unsettled, or so Avery Greene Dalyrymple III, the co-owner believes. The son and grandson of Southern evangelists, Avery is also an overworked and overwrought middle-aged gay man, a cynical "big-time drinker and sinner" fairly certain he can maintain a family of "other deviants and delinquents stumbling along Bourbon Street" to keep him company. But Avery is also the only person in contact with the spirit world on his property—ghosts from the house's origins during the 1820s—and he must use the history left behind from another ghost—a gay man from the 1970s—to find a way to restore peace to his household and rejuvenate his faith.

The Haunted Heart and Other Tales
ghost stories
Lethe Press, 2009
Chelsea Station Editions, 2012

Twelve stories of gay men and the memories that haunt them.
Jameson Currier modernizes the traditional ghost story with gay lovers, loners, activists, and addicts, blending history and contemporary issues of the gay community with the unexpected of the supernatural.

Still Dancing
new and selected stories
Lethe Press 2008
Chelsea Station Editions, 2011

In Still Dancing author Jameson Currier brings together twenty short stories spanning three decades of the impact of the AIDS epidemic on the gay community. Along with stories from Currier's debut collection, Dancing on the Moon, praised by The Village Voice as "defiant and elegiac," are ten newly selected stories written by one of our preeminent masters of the short narrative form.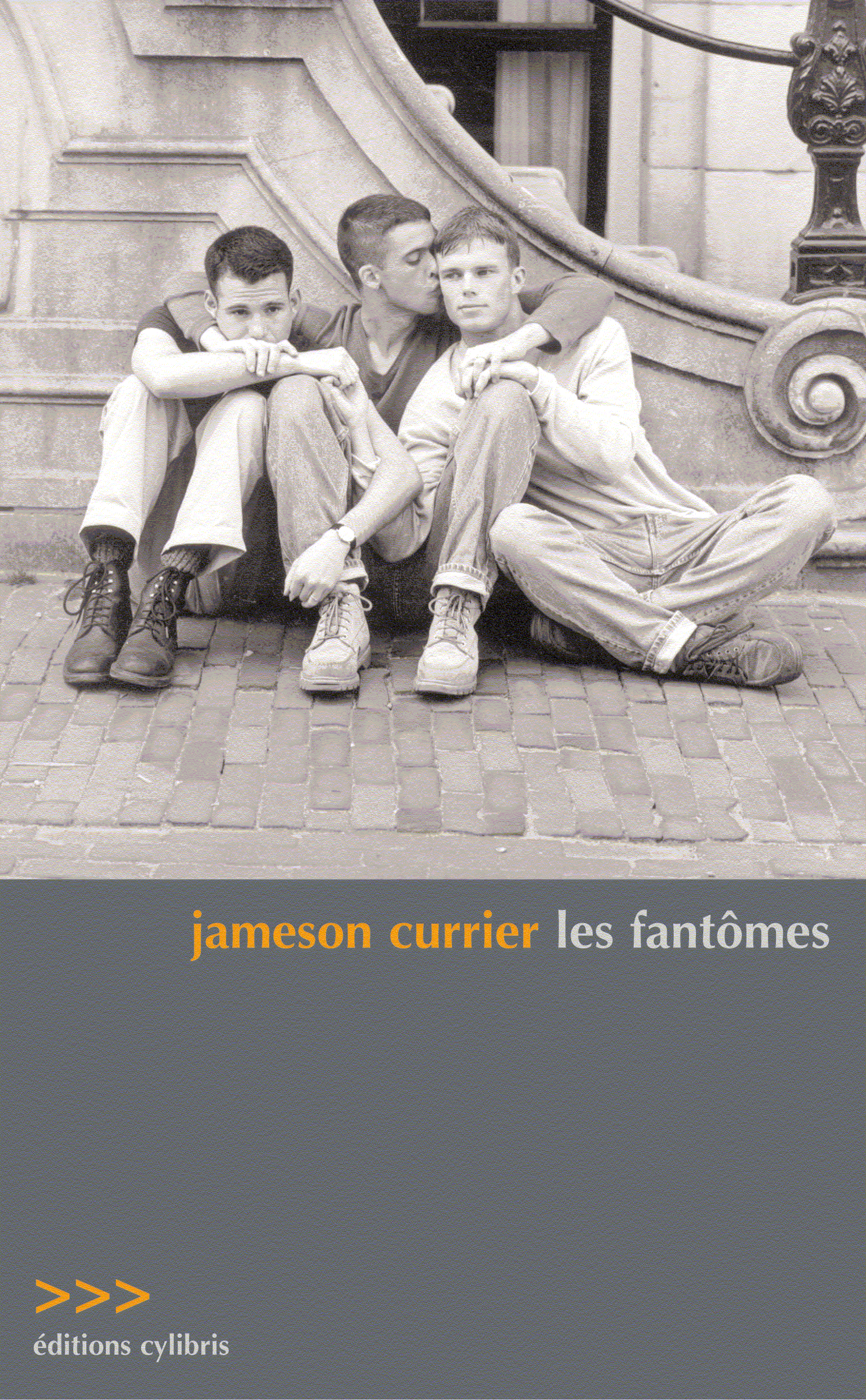 Les Fantomes
short stories about AIDS
Cylibris, 2005

In 2005, CyLibris, a gay publishing company in France, published a French-language edition of a collection of AIDS-themed short stories by the author titled Les Fantômes (translation The Ghosts) — in cooperation with "sida, Grande Cause Nationale 2005," a national French AIDS organization.

Desire, Lust, Passion, Sex
stories
Green Candy Press, 2004
Chelsea Station Editions, 2013

Desire, Lust, Passion, Sex brings together nineteen stories by Jameson Currier—including six never-before-published works as well as the author's widely praised short fiction previously published in literary journals, Web sites, and award-winning anthologies such as Best Gay Erotica, Best American Erotica, and Men on Men. In this new collection, the author meticulously details the search for love, romance, and partnership between gay men, and his characteristically spare prose brings into sharp relief the sometimes maddening traits that constitute a person's romantic ideal and shows how the quest for a meaningful relationship can transform—or derail—the course of our lives.
Where the Rainbow Ends
a novel
Overlook Press 1998 and 2000
Chelsea Station Editions, 2011
Lambda Literary finalist, Gay Fiction

A powerful, compelling, and heartfelt first novel of a young gay man's quest for faith, family, and understanding during the early years of the AIDS epidemic.

"Currier is adept at drawing a fi ne line between the erotic and the tragic, and at telling stories that 'although personal, are also the stories of our community.' Where the Rainbow Ends feels like the fictionalized history of a generation of gay men."
Erik Burns, The New York Times Book Review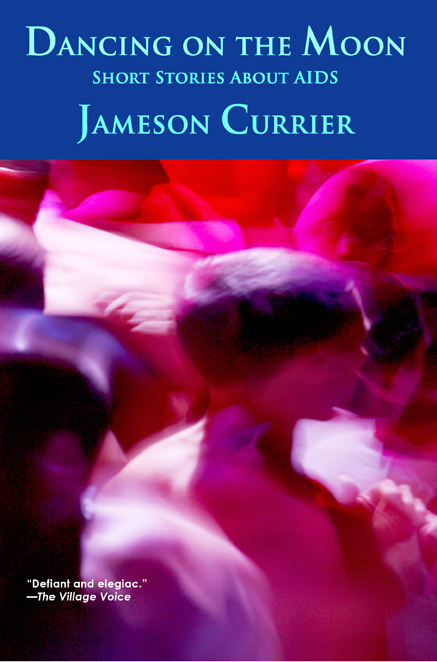 Dancing on the Moon
short stories about AIDS

Chelsea Station Editions, 2011
Penguin, 1994
Viking, 1993

This debut collection of short stories, first published in 1993, was praised for its courageous and compassionate depiction of the impact of AIDS on gay men and their families and friends.